Progressive Web App or PWA, is an application (APP) that can be installed directly from browser. Electro theme offers PWA and configuration is very easy.
You can configure PWA settings on Theme panel adding your App name, description and color. For APP icon, theme uses the Logo set on opencart settings.

PWA is not supported by all browsers, but almost all modern browsers support it. On google chrome, installation is much faster.
After configuring the settings, PWA APP install button is displayed on footer (for supported browsers)

Pressing that button Chrome browser will ask you to install the app.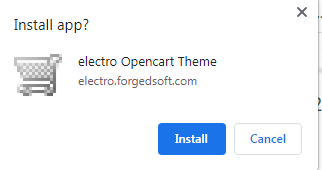 For Firefox, installation is different, Firefox does not support install prompt, you need to click on Firefox menu and click the "Add to home screen" option on mobile.